My Blog
Posts for: September, 2018
By Megha Joshi DDS and Achyut Joshi DDS
September 20, 2018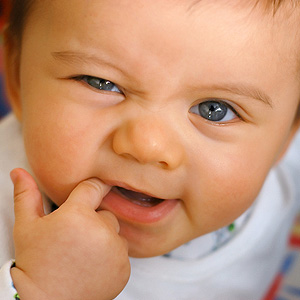 Your sweet, happy baby has suddenly become a gnawing, drooling bundle of irritation. Don't worry, though, no one has switched babies on you. Your child is teething.
For most children, their first teeth begin breaking through the gums around six to nine months. Usually by age three all twenty primary ("baby") teeth have erupted. While the duration and intensity of teething differs among children, there are some common symptoms to expect.
Top of the list, of course, is irritability from pain, discomfort and disrupted sleep. You'll also notice increased gnawing, ear rubbing, decreased appetite, gum swelling or facial rash brought on by increased saliva (drooling). Teething symptoms seem to increase about four days before a tooth begins to break through the gums and taper off about three days after.
You may occasionally see bluish swellings along the gums known as eruption cysts. These typically aren't cause for concern: Â the cyst usually "pops" and disappears as the tooth breaks through it. On the other hand, diarrhea, body rashes or fever are causes for concern — if these occur you should call us or your pediatrician for an examination.
While teething must run its course, there are some things you can do to minimize your child's discomfort:
Provide them a clean, soft teething ring or pacifier to gnaw or chew — a wet washcloth (or a cold treat for older children) may also work. Chill it first to provide a pain-reducing effect, but don't freeze it — that could burn the gums.
Use a clean finger to massage swollen gums — gently rubbing the gums helps counteract the pressure caused by an erupting tooth.
Alleviate persistent pain with medication — With your doctor's recommendation, you can give them a child's dosage of acetaminophen or ibuprofen (not aspirin), to take the edge off teething pain.
There are also things you should not do, like applying rubbing alcohol to the gums or using products with Benzocaine®, a numbing agent, with children younger than two years of age. Be sure you consult us or a physician before administering any drugs.
While it isn't pleasant at the time, teething is part of your child's dental development. With your help, you can ease their discomfort for the relatively short time it lasts.
If you would like more information on relieving discomfort during teething, please contact us or schedule an appointment for a consultation. You can also learn more about this topic by reading the Dear Doctor magazine article "Teething Troubles."
By Megha Joshi DDS and Achyut Joshi DDS
September 10, 2018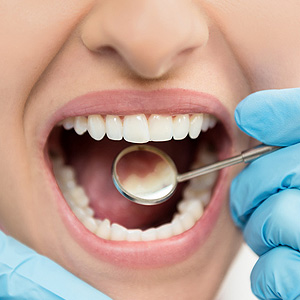 The basics for treating tooth decay have changed little since the father of modern dentistry Dr. G.V. Black developed them in the early 20th Century. Even though technical advances have streamlined treatment, our objectives are the same: remove any decayed material, prepare the cavity and then fill it.
This approach has endured because it works—dentists practicing it have preserved billions of teeth. But it has had one principle drawback: we often lose healthy tooth structure while removing decay. Although we preserve the tooth, its overall structure may be weaker.
But thanks to recent diagnostic and treatment advances we're now preserving more of the tooth structure during treatment than ever before. On the diagnostic front enhanced x-ray technology and new magnification techniques are helping us find decay earlier when there's less damaged material to remove and less risk to healthy structure.
Treating cavities has likewise improved with the increased use of air abrasion, an alternative to drilling. Emitting a concentrated stream of fine abrasive particles, air abrasion is mostly limited to treating small cavities. Even so, dentists using it say they're removing less healthy tooth structure than with drilling.
While these current advances have already had a noticeable impact on decay treatment, there's more to come. One in particular could dwarf every other advance with its impact: a tooth repairing itself through dentin regeneration.
This futuristic idea stems from a discovery by researchers at King's College, London experimenting with Tideglusib, a medication for treating Alzheimer's disease. The researchers placed tiny sponges soaked with the drug into holes drilled into mouse teeth. After a few weeks the holes had filled with dentin, produced by the teeth themselves.
Dentin regeneration isn't new, but methods to date haven't been able to produce enough dentin to repair a typical cavity. Tideglusib has proven more promising, and it's already being used in clinical trials. If its development continues to progress, patients' teeth may one day repair their own cavities without a filling.
Dr. Black's enduring concepts continue to define tooth decay treatment. But developments now and on the horizon are transforming how we treat this disease in ways the father of modern dentistry couldn't imagine.
If you would like more information on dental treatments for tooth decay, please contact us or schedule an appointment for a consultation.